PHARMACEUTICAL DEVELOPMENT
Analytical Development and Formulation Development
Our research and development services are client driven and focused on defining the best and cost effective operations for each client's Pharmaceutical Development.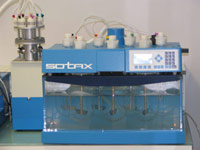 FORMULATION DEVELOPMENT SERVICES
We offer the following services:
Preformulation and Formulation of a large variety of dosage forms

Parenteral solutions
Oral solid and liquid forms
Topical forms: gels, creams, ointments, eye-drops

Pre-stability Studies
Manufacturing of Lab-scale Batches
Scale-up studies and validation of industrial processes
Selection of industrial manufacturers
ANALYTICAL DEVELOPMENT SERVICES
For APIs(Active Pharmaceutical Ingredients) and Finished Products
Method Development and Validation

Identification
Assays
Dissolution

Forced Degradation Studies
Container / Content interactions Studies
Gel electrophoresis : SDS-PAGE and IEF
Immunoassays : ELISA and Western-Blot
QUALITY CONTROL SERVICES
APIs
Investigational Medicinal Products
Marketed Products
Our range of equipment and constant investment policy on best and modern equipment allow us to propose the most accurate techniques.
Our specialized staff determines with each client the best development and analytic strategy in order to minimize costs and development time.